"The Advantages Of Buying A Home"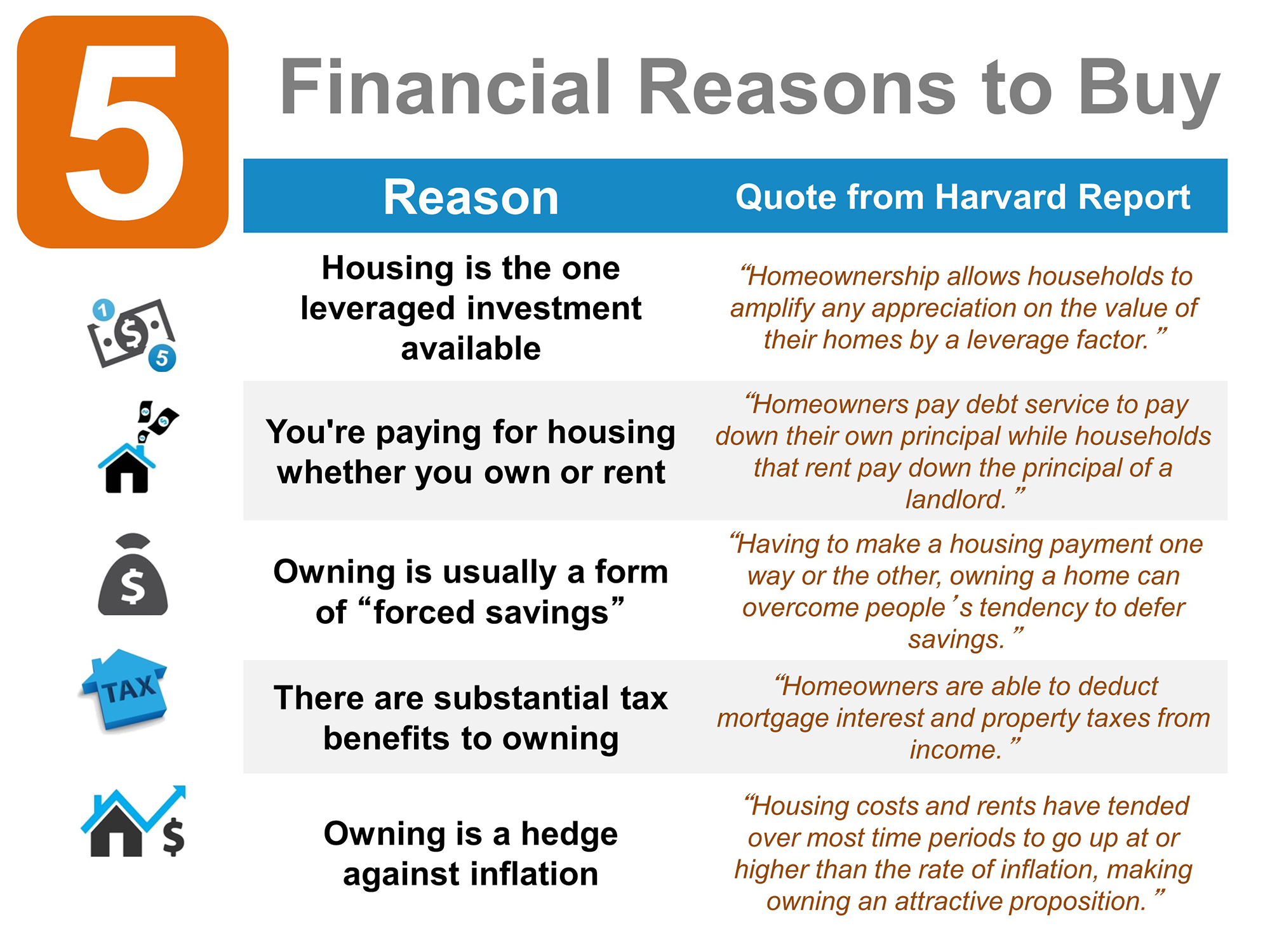 The Joint Center for Housing Studies of Harvard University reported "5 Financial Reasons To Buy A Home."
1.  Housing is the one leveraged investment available. According to the Harvard report, "Home ownership allows households to amplify any appreciation on the value of their homes by a leverage factor."
2.  You are paying for housing whether you own or rent. The report states, "Home owners pay debt service to pay down their own principal while the households that rent pay down the principal of a landlord."
3.  Owning is usually a form of "forced savings." Harvard research has found, "Having to make a house payment one way or the other, owning a home can overcome people's tendency to defer savings."
4.  There are substantial tax benefits to owning. This is because "home owners are able to deduct mortgage interest and property taxes from their income."
5.  Owning is a hedge against inflation. Research done by the Joint Center for Housing Studies at Harvard University indicates that, "Housing costs and rents have tended over most time periods to go up at or higher than the rate of inflation, making owning an attractive proposition."
There are many advantages of buying a home, financial or otherwise.  If you are considering buying your first home you can start your home search here:
Click Here to search the entire Cincinnati MLS for Cincinnati Real Estate for sale.
Buying a home as a first time homebuyer is a complex process, one that a real estate agent specializes in navigating.  A real estate agent will advocate for you and your interests throughout the whole process, which makes it important for you to find the agent that will best fit your needs.  
The Lowry Team takes a team approach to home buying and selling. The Lowry Team consists of members that are focused on areas of specialization including Listing Specialists, Buyer Specialists, Transaction/Listing Coordinator and a Marketing Director. This ensures that you get more focused attention and your home buying or selling process goes as smoothly as possible.
Contact The Lowry Team of Keller Williams Realty Associate Partners today to get in touch with a real estate specialist.
The Lowry Team is an award winning, full service real estate firm. The Lowry Team's culture is that of a fun, high energy group who prides themselves on providing, personal, professional real estate service.
Don't Hire an Agent…Hire a Team.  The Lowry Team.
Buyers and Sellers can reach The Lowry Team, Keller Williams at 513-874-1830.
Other Articles  You May Be Interested In:
Buying A Home In Today's Market
What You Should Know Before Buying A Home
West Chester Ohio Is One of The Best Places to Live
West Chester and Liberty Township Ohio Real Estate Market Report
The 6 Most Essential Home Buyer Tips
First Time Home Buyer Homes For Sale In West Chester 
Search the MLS for Homes For Sale