Liberty Township OH Most Expensive Home Sales In 2015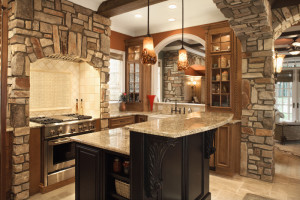 2015 saw the luxury home market in Liberty Township Ohio continue a slow steady pace.  There were 24 luxury home sales in Liberty Township in the first eleven month's of 2015 compared to 22 luxury home sales in the same period in 2014.
The inventory of luxury homes for sale in Liberty Township remains very high relative to the number of homes selling. While the current inventory is high right now, the level of unit sales is still quite high historically for Liberty Township.  A large part of the activity in the Liberty Township luxury home market is being driven by new construction.  This new construction in the luxury market is almost exclusively in the Carriage Hill Subdivision.
The inventory of homes for sale in Liberty Township is quite high when compared to the amount of homes that are selling.  Based on the current rate of sales in the luxury market there is a 12 month supply of homes for sale.  Traditionally anything over 6 months worth of inventory is considered to be an oversupply favoring home buyers as opposed to favoring home sellers.

The Top Ten Most Expensive Home Sales in Liberty Township in 2015 (see image below) were sold in a range from $650,527 – $1,250,000.  Of these ten home sales, 6 were in the Carriage Hill Subdivision, 2 were in Four Bridges Subdivision, 1 was in Bridgeton Manor Subdivision and 1 was in The Sanctuary.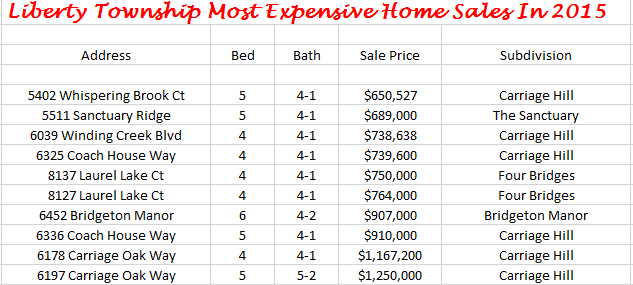 6 of these luxury home sales were new construction homes.  All 6 of these newly built homes were sold in the  Carriage Hill Subdivision which has been the location of the Homearama new home show on 2 occasions recently.
Have questions on the Liberty Township Ohio Real Estate Market?  Call Eric Lowry  513-368-3751
Search For The Most Expensive Homes Currently Listed For Sale In Liberty Township Ohio Right Here
Ranch Homes For Sale In Liberty Township
Homes In Liberty Township With A Pool
Golf Course Homes For Sale In Liberty Township Ohio

The Lowry Team – Keller Williams Realty is an award winning, full service real estate firm specializing in West Chester, Liberty Township, Mason, Monroe and the Northern Suburbs of Cincinnati. The Lowry Team's culture is that of a fun, high energy group who prides themselves on providing personal, professional real estate service.
The Lowry Team is "Different By Design"… taking a team approach to home buying and selling. The Lowry Team consists of members that are focused on areas of specialization including Listing Specialists, Buyer Specialists, Transaction/Listing Coordinator, Inside Sales Associate and a Marketing Director.
Don't Hire an Agent…Hire a Team.  The Lowry Team.
Buyers and Sellers can reach The Lowry Team Keller Williams at 513-874-1830.