5 Easy Home Improvements To Increase Home Value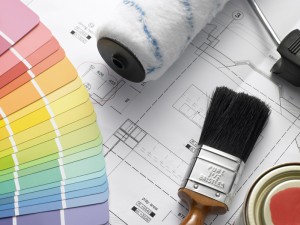 Are you considering selling your home? Did you have it listed but it didn't sell? Your home may need a bit of work before it will sell at the best possible price. Here are some easy home improvements you can make to increase home value and improve your chances of selling quicker.
Step up your curb appeal – First impressions are everything, and the front of your home is what buyers see first. You can easily step up your curb appeal and increase home value by mowing and edging the grass, trimming shrubs, and planting flowers. If the paint on your front door or garage door has seen better days, repaint them. Consider replacing the shabby mailbox, adding new house numbers, power-washing the driveway (and the house if it has vinyl siding) etc. A well-kept front yard makes buyers much more willing to come inside for a look.
Upgrade kitchen appliances – The kitchen is one of the best places to see return on your investment in home improvements. If you are not looking to do a full kitchen update, simply upgrading your kitchen appliances will make a huge difference to how potential buyers see your home. If you want to go a step further, you can update the  hardware on the cabinets, or even give the cabinets a new finish. Improving the kitchen is a great place to start when you want to increase home value.
Paint neutral tones – Have deep red walls that you just love? Go to your nearest home improvement store and buy some neutral paint tones such as cream, taupe, etc. Neutral paint tones tend to make rooms look bigger and more open. Buyers see dark or wild paint colors as more work and money to change. A fresh coat of neutral paint is an easy and cheap improvement, but will make a significant difference.
Take a look at your flooring – Are your carpets looking a little rough? Get them professionally cleaned. Do you have any dated vinyl flooring? Consider replacing it with neutral laminate or tile. Making your home look clean and updated is a quick way to impress buyers and increase home value.
Don't forget the basics – Buyers expect the basics of the home to be in good, working order, so make sure you address any issues beforehand. If your roof is old or leaking, it should be replaced or fixed. Address any problems with heating and air-conditioning units or plumbing. Making sure the basics work can definitely increase home value. You don't want to lose a sale to competition or reduce your home value just because one of these things aren't up to par.
Other articles that may interest you:
Thinking Of Selling Your Home? 5 Reasons To Do It Now
Selling Your Home By Yourself – For Sale By Owner