What are Mortgage Interest Rates in West Chester, Liberty Township & Mason Ohio??
LowryTeam.com Mortgage Interest Rate Update
Have mortgage interest rates hit their lows? Will they continue to move higher? These are good questions. The truth of the matter is nobody knows for sure. Mortgage interest rates have moved higher in the last 6-7 months only to see them sag back down again, as you can see on the graph.  The rates continue to bounce around in a range between 4.50% – 5.00%.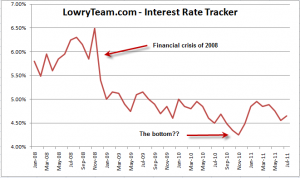 It does feel like we have seen the lowest levels and that interest rates will likely continue to edge a little higher as we move through the late summer and fall real estate markets.  Get preapproved for your mortgage before you begin to search for homes.  You can get preapproved for a mortgage to buy a home in West Chester, Liberty Township & Mason Ohio.
You can start your search for a new home inWest Chester, Beckett Ridge or Liberty Township, Ohio right here using our real estate search engine.