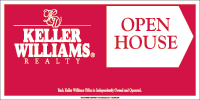 It's Tuesday, so this must be the Tuesday Open House.
What is Tuesday Open House?? Well, it's clearly not an "open house". Open Houses don't sell homes… good internet marketing does… but it seemed like a good title for this weekly blog post.
It is my way of throwing the doors open on the RealEstate-Ink.com blog and offering up a few quick articles and facts on real estate for the West Chester, Liberty Township, Beckett Ridge, Mason and Fairfield Township, Ohio areas. It is not intended to be all about homes for sale, but it will be about that some of the time…
This week the Tuesday Open House features several articles for home sellers in West Chester & Liberty Township & Mason, Ohio.
The first is from KCM Blog which is one of my favorites.  The title of the article is: A Window of Opportunity for House Sellers.  It's worth a read.  It mirrors my belief that home prices will continue to come under pressure in the last half of this year as our huge oversupply of homes for sale continues to grow.  You can read the entire article here>> A Window of Opportunity For House Sellers
From the CNBC Realty Check blog is this article on the impending changes in loan limits.  Loan Limit: Will It Or Won't It Hurt Housing?  This is a national real estate article and clearly real estate markets are different across the country.  I wrote a blog post here on RealEstate-Ink.com detailing my thoughts on this matter for the West Chester, Liberty Township & Mason Real Estate market recently.  You can find my article right here>> Loan Limits Changing – Does it matter? and you can read the CNBC article here>> Loan Limit: Will It or Won't It Hurt?
And for those of you that just love the national reports on home values and prices.  This article on Forbes.com on the Case-Shiller home index and many other firms that report (or attempt to) on home values across the country is full of data and detail on home prices>> What Can Homeowners Learn From Case-Shillers Home Price Index?  For those that would like real, local real estate data and information on home values, Contact A Real Estate Professional!
Searching for homes for sale? Search all of the homes for sale in West Chester, Beckett Ridge, Liberty Township, Mason or Monroe Ohio… Search The MLS