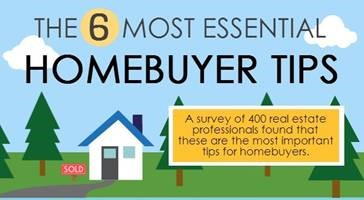 The Lowry Team Keller Williams Shares The 6 Most Essential Home Buyer Tips
In this modern world, everything we think we need to know is right at our fingertips, at the click of a button. The internet has become our primary source for information.  However, when buying a home, too much information can be confusing and overwhelming.  Market Leader surveyed 400 real estate agents to discover what tips they considered to be the best advice for the home buyer.
First, get a home inspection.  Have a professional check the safety and condition of the home. Second, get pre-approved.  Pre-approval will determine your price range. The corresponding pre-approval letter will put you in a  better position when writing an offer .  Third, any communication with the seller should be done through your real estate agent.  Fourth, get absolutely everything in writing.  For your protection, verbal agreements must get put into writing. Fifth, include any contingencies with your offer. Financing and inspections need to be written into the contract.   Lastly, before you begin looking for a home, make a realistic wish list.  Consider the size home and amenities you would like to have.
The best tip of all is to use a real estate agent when buying a home.  A professional agent will provide you with the best and most current information to assist you in your home search. The agent can discuss financing options, know whether a home is reasonably priced, and negotiate the best deal for you.
If you are considering buying a home, contact The Lowry Team. 513-874-1830

The Lowry Team – Keller Williams Realty is an award winning, full service real estate firm specializing in West Chester, Liberty Township, Mason, Monroe and the Northern Suburbs of Cincinnati. The Lowry Team is "Different By Design"… taking a team approach to home buying and selling. The Lowry Team consists of members that are focused on areas of specialization including Listing Specialists, Buyer Specialists, Transaction/Listing Coordinator, Inside Sales Associate and a Marketing Director.
Don't Hire an Agent…Hire a Team.  The Lowry Team.
Buyers and Sellers can reach The Lowry Team Keller Williams at 513-874-1830.
Other Articles You May Be Interested In:
Search the entire Cincinnati MLS for Homes For Sale
Find Out The Current Market Value Of Your Home
A Complete Guide to Buying a Home
What does it take to buy a home in today's market?
Buy a Home With a Low Down Payment
Buying a Home Step 1: Get Pre Approved