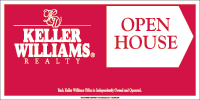 It's Tuesday, so this must be the Tuesday Open House.
What is Tuesday Open House?? Well, it's clearly not an "open house". Open Houses don't sell homes… good internet marketing does… but it seemed like a good title for this weekly blog post.
It is my way of throwing the doors open on the RealEstate-Ink.com blog and offering up a few quick articles and facts on real estate for the West Chester, Liberty Township, Beckett Ridge, Mason and Fairfield Township, Ohio areas. It is not intended to be all about homes for sale, but it will be about that some of the time…
Need Mulch? If you are preparing your home to get it on the market for sale soon,  don't forget the curb appeal. As the old saying goes… you only get one chance to make a good first impression. So clean up the landscaping and get yourself some fresh mulch. I'm not sure that there is a better way to go than to get it from the boy scouts. They even deliver! You can just go directly to the boy scouts site right here. My mulch is being delivered in just a couple of weeks…anyone like to help??

Searching For Bank Owned or Short Sale Homes For Sale?  You can search for bank owned homes for sale as well as short properties using our real estate search tool:  LowryTeam.com You can create your own search criteria, save your searches, get alerts of newly listed homes for sale and much more!

Beckett Ridge Community Garage Sale:  The Beckett Ridge community garage sale is scheduled for Saturday, May 14th, 2011 from 8:00am – 4:00pm.  The Beckett Ridge Homeowners Association will run ads in the local newspapers.  You can find more information regarding the Beckett Ridge garage sale and the homeowners association on the Beckett Ridge Homeowners Association website: http://www.beckett-ridge.org/

Our facebook fan page of the week is: West Chester Township It is a brand new page on Facebook for West Chester Township!  You can find information on events and news going on in our township.  As of this writing their page very few friends, so I ask that you visit their fan page, become a fan and invite your facebook friends to do the same.
While you are on facebook checking out West Chester Township, please visit and become a fan of our facebook page: www.Facebook.com/LowryTeamRealEstate
What is my home worth? Want to get a good idea of what your home is worth… Get your own Personal Real Estate Market Update
Searching for homes for sale?  Search all of the homes for sale in West Chester, Beckett Ridge, Liberty Township, Mason or Monroe Ohio… Search The MLS