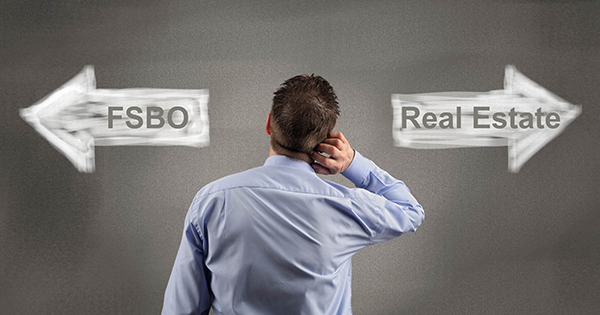 Some homeowners decide to try to sell their home without the representation of a Realtor, which is referred to as a For Sale By Owner (FSBO). However, the odds are very much stacked against them. Data from a recent National Association of Realtors (NAR) survey shows that less than 10% of For Sale By Owners actually sell. There are many reasons For Sale By Owners don't sell. Here are the top among them:
They fail to market the home effectively
When a home is listed with a Realtor, the home is aggressively marketed. Often times, the Realtor has a team with a Marketing Director whose expertise is marketing the home to the maximum number of potential homebuyers. FSBOs typically rely on a sign in the yard and a Craiglist ad. They severely lack exposure.
They don't know how to prepare the home for sale
Many homeowners have no idea what projects need to be done before putting the home up for sale, and which are essentially a waste of money. Neglecting any important prelisting tasks can affect the first impressions of potential homebuyers to their detriment.
They aren't available to quickly respond to inquiries and showing requests
Handling inquiries and coordinating showings is a key part of the home selling process, however many homeowners can't accurately address them or don't have the time to do so. In this market, buyers have to move fast so they expect fast answers from sellers. If their or their agent's inquires are going unanswered, they won't hesitate to move on to the next property.
They don't know how to properly screen potential buyers
Many homeowners don't know the difference between prequalification and preapproval. They also don't or can't verify that homebuyers are qualified so they open their home to unqualified buyers, which is a tremendous waste of their time.
Owners don't allow potential buyers to view the home without pressure
There is nothing that will turn a potential buyer off more than the homeowner hanging around while they are trying to tour the home. Most buyers do not like to be pressured while looking at homes. Giving the potential buyer space, allows them the ability to speak freely about the home and look at their leisure.
Homeowners inaccurately price their home
The number one reason homes don't sell is because they are overpriced, and FSBOs often overprice their home due to inexperience.
There are too many people to negotiate with
When selling a home, there are many more people to negotiate with than most people realize. A FSBO must negotiate with the buyer, the buyer's agent, the buyer's attorney, the home inspection company, the termite inspection company, your bank (if it's a short sale), the appraiser, the buyer's lender, and the title company. Without the help of a licensed Realtor, negotiating with so many different parties can prove a tough task for homeowners.
Contractual procedures are too complicated
A contract to buy a home involves much more than just agreeing to a sale price. A purchase contract is very in depth and involves many timelines, clauses, and contingenies. Real estate purchase contracts can be very confusing if you do not specialize in handling them. Many FSBOs don't have a firm understanding of real estate contracts, and often aren't clear on what they are agreeing to or how to negotiate different parts of the contract.
They don't know how to handle the home inspection findings
Pretty much every homebuyer gets a home inspection done, and the chances are pretty high that the home inspector is going to find something wrong with your home. Many FSBOs don't know how to handle inspection negotiations, and often refuse to correct any of the buyer's requests, which is a great way to make a buyer walk from the sale.
They drop the ball during the closing process
Many homeowners have no idea what they would need to do after getting an accepted offer together on their home to ensure that it actually closes, such as making sure inspection deadlines are hit, title work has been reviewed, the appraisal was ordered and came back okay, the buyers have obtained mortgage loan commitment, title work is reviewed, etc. There is so much to do from contract to closing that many Realtors have their own Transaction Coordinator whose entire job is comprised of this step of the process.
Bottom Line: If you're thinking of selling your house, you might want to reconsider doing it yourself. When you sell your home with a Realtor, you are much more likely to be successful in selling your home faster and at a higher price.
Thinking of selling your house? Call or text Eric Lowry at 513-368-3751.
Don't forget to ask about The Lowry Team's Sale Guarantee…
We'll sell your home in 88 days, or we'll sell it for FREE!

The Lowry Team – Keller Williams Realty is an award winning, full service real estate firm specializing in West Chester, Liberty Township, Mason, Monroe and the Northern Suburbs of Cincinnati. The Lowry Team is "Different By Design"… taking a team approach to home buying and selling. The Lowry Team consists of members that are focused on areas of specialization including Listing Specialists, Buyer Specialists, Transaction/Listing Coordinator, Inside Sales Associate and a Marketing Director.
Don't Hire an Agent…Hire a Team.  The Lowry Team.
Buyers and Sellers can reach The Lowry Team Keller Williams at 513-874-1830.
Other Articles You May Be Interested In:
Search the entire Cincinnati MLS for Homes For Sale
Find Out The Current Market Value Of Your Home
Where are interest rates headed?
Why Use a Real Estate Team Instead of a Single Agent
Sell Your House Faster – Stage It With Color!
Preparing Your Home for Sale: 10  Tips for Staging a Home
Can my real estate agent represent me on new construction?