Thinking of selling? Call 513-368-3751 for a Free Home Value Estimate; or click here for an automated home value estimate.
No matter if you are selling your first home or your fifth, selling a house can be a time consuming and stressful job. However, there are a few things you can do to make selling your Cincinnati home as painless as possible.
1. Set a realistic price
The fact is, it doesn't really matter what you think your house is worth. What matters is current market conditions and what the buyer thinks it is worth. If you price it too high, you risk cutting your potential buyer pool significantly; or worst case, it may never sell. Recent Keller Williams research shows that a house priced right at market value sold in just half the time compared to homes priced above market value.  In addition, homes priced at market value ended up selling for almost $4,000 more on average. A good Realtor can help you determine the best list price for your home; which brings us to…
2. Hire a fantastic agent
You want to make sure you are putting your home in the hands of a seasoned professional who will actively work to sell your house. Hiring a great Realtor is the single most important task you have as a seller. Do your research, and don't be afraid to ask lots of questions. Is the agent full-time or part-time? How much experience do they have? What is their performance history? Do you feel comfortable with them and trust them? etc.
A great agent will discuss your ideal time frame for selling your home, pricing strategies, tips to prepare for the market, as well as the net profit needed from the sale.  Hiring an experienced real estate agent will help protect you and your best interests, and your potential equity in the sale of your home.
3. Reduce the amount of clutter
Start packing up anything you are not currently using.  You are going to have to pack it up eventually anyway, so why not get started.  Remove all clutter from kitchen and bathroom counters, shelves, tables, etc. Have a minimalist mindset with what you leave out. Your house will appear larger, neater, and more organized. You can also make your house look like it has an overabundance of storage by emptying closets and cabinets.
4.  Make it light and bright
Lighting and brightness is very important when staging your home for sale. Replace any burned out bulbs. Move furniture away from the windows. Get rid of cobwebs and be sure to open curtains and blinds. Renew the look of the room by replacing old or dated light fixtures. Also, make sure to wash the windows both inside and out. Neutralize any strong or bright colored paint with neutral tones such as light taupes, beiges, or greys. Light, clean rooms also seem larger and more updated than rooms that are painted strong colors. These small steps will leave your house looking bright, inviting, and spacious to potential buyers.
5. Evaluate your kitchen and bathrooms
Kitchens and bathrooms tend to be the most important rooms to buyers, and can absolutely make or break a sale. With that being said, you don't need to gut your kitchen and do a complete renovation. However, you can make a big difference by doing things such as updating cabinet hardware, painting the walls a neutral color, and replacing outdated faucets and light fixtures.
6. Tackle the projects you've been putting off
We all have that to-do list of things we've been putting off around the house. Before you put your home on the market you'll want to tackle that list. Start with the small things like fixing a leaky faucet, and work your way up.  Potential buyers want to see that you have been keeping up with home maintenance. Your Realtor will be able to go over your list with you, and advise you on which items need doing and which don't.
7. Make a great impression online
The listing photos of your home online provide the very first impression buyers will have of your home. You want them to be impressed enough that they want to schedule a showing. If you prepare your house for listing photos, it can definitely help improve the quality of the photos and sell your house faster.  You'll also want to make sure your listing is complete and optimized for online viewing, especially on phones and tablets. This is why you need a tech-savvy agent with good photography skills. If your home really pops online, you will impress more buyers, and ultimately sell your house faster.
8.  Pack away the personal stuff
Before you put your home on the market be sure to remove personal photographs and pack up family heirlooms.  You want buyers to imagine their own photos on display, and they can't do that if yours are there. Don't forget to remove your papers and pictures from the refrigerator as well. Also make sure shelves, counters, and tables are clean and uncluttered. Keep a minimalist mindset, and give the buyers a blank canvas so they can envision themselves living in your home.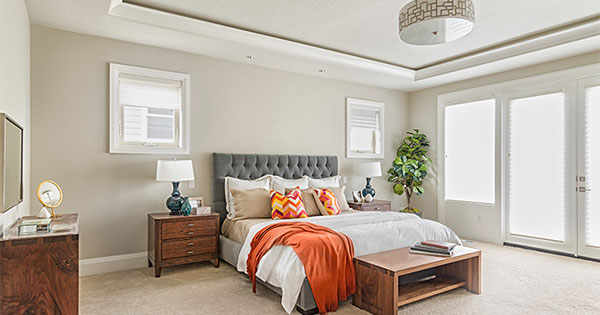 9. Improve the curb appeal
Your home's curb appeal provides the first impression to potential buyers, so you definitely want to make it a good one! Improving your home's curb appeal can be as simple as keeping your lawn cut, trimming the bushes, and planting some colorful flowers. You want the buyers to be so impressed by the outside, that they can't wait to see the inside!
10. Always be ready
In a hot market, you will need to be ready for a home showing appointment at a moment's notice. Make sure you keep your home clean and "show ready" at all times. Homes that are staged sell faster and for money than homes that are not. Keep in mind there is only one chance to make a good first impression on potential buyers.
Follow these ten tips, and your home will sell faster and for more money.
Questions about selling your Cincinnati home?
Contact The Lowry Team today!
Call or text 513-368-3751

Eric Lowry, CEO and Listing Specialist for The Lowry Team, has over 18 years experience selling homes in the Cincinnati area, and his listings sell for around 1% more than the market average – that could mean thousands of dollars more in your pocket.
We, at The Lowry Team, go above and beyond to market your home using all the latest advancements in technology, social media, and publicity strategies to ensure your home reaches the maximum number of potential buyers. In fact, we are 100% confident that NO ONE can expose your home to the masses like we can! We are so confident that we will GUARANTEE the sale of your home.  Your home sold in 88 days, or we'll sell it for FREE! Call Eric Lowry at 513-368-3751 for more information.