West Chester OH Most Expensive Home Sales In 2012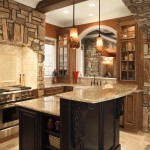 2012 was the year we saw the luxury home market in West Chester Ohio begin to show signs of recovery.  The number of luxury home sales in West Chester was much higher than in 2011.  While the inventory of homes for sale in this luxury home category remains very high relative to the number of homes selling, this is a good start.
Million dollar home sales continue to elude West Chester.  Once again there was not a million dollar home sale recorded in the Cincinnati MLS for West Chester in 2012. (Although one home came close).  The last million dollar home sale in West Chester was in March of 2008 according to the Cincinnati MLS.
The Top Ten Most Expensive Home Sales in West Chester Ohio in 2012 (see image below) were sold in a range from $550,000 – $940,000.  Of these ten home sales, 4 were in the Reserves Of Providence Subdivision, 4 were in Foxborough Subdivision, 1 was in Wetherington Subdivision and 1 was in Indian Springs Subdivision.
In 2011 there were only 4 home sales that closed at $550,000 or higher.  So the 10 that sold this past in year at $550,000+ is a terrific increase.
Three of these home sales were new construction homes.  All three of these newly built homes were sold in the Foxborough Subdivision, which hosted Homearama in 2011.  Side note here:  the 2013 Homearama Home Show is being held in Liberty Township in The Carriage Hill Subdivision.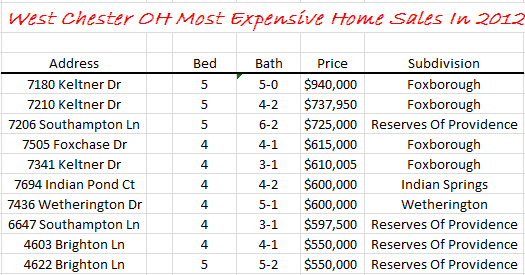 Search For The Most Expensive Homes Currently Listed For Sale In West Chester Ohio Right Here
Wondering What Your Home Is Worth?  Request A Market Value Analysis Of Your Home Right Here!