Holiday Junction at the Cincinnati Museum Center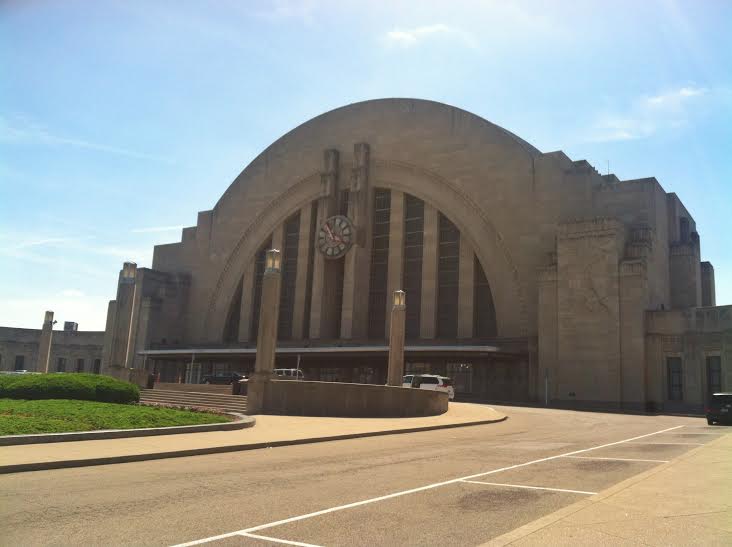 The Duke Energy holiday train exhibit, a long standing Cincinnati tradition, opens today and runs through January 4, 2015. The portable model display began in 1946 and grew along with the railroad itself.
Features of Holiday Junction include a raised platform for better viewing, vintage toys on display and historic paintings from the Pennsylvania Railroad Calendar Series. Kids can enjoy a train ride for just $1.
There are many museums and activities all under one roof at the center, located at 1301 Western Avenue Cincinnati Ohio 45203. 
Visit the Cincinnati History Museum and learn about Cincinnati's past. There is a re-creation of Cincinnati's Public Landing circa 1850's and a steamboat that you can step aboard. Learn about what Cincinnati was like during World War I. Interact with settlers and other people of that era.  One special exhibit they have is Cincinnati In Motion.  It is a model of Cincinnati in the 1900-1940's complete with working trains, streetcars and inclines.  
Step back 19,000 years into the Ice Age by going to the Museum of Natural History and Science.  Explore caves, waterfalls, fossils and a bat colony.  Check out the Dinosaur Gallery Exhibit to see replicas of the T-Rex, Allosaurus and more!  
The Duke Energy Children's Museum is consistently ranked in the top ten children's museums in the United States It is hands on fun for kids of all ages in the areas of the arts, culture, reading, science and more.  Kids love to play in Kids Town, a miniature town that includes a grocery, veterinarian's office, post office and more.
The Omnimax Theater features a five-story domed screen and surround sound.  Currently you can choose to see Jerusalem or Grand Canyon: The Hidden Secrets.  
Holiday Junction is included in the "all museum pass." Ticket specials may be available on line.  Cincinnati Museum Center members passes are good for the Holiday Junction display. Vouchers are available online for Duke Energy customers.
Hours are Monday through Friday from 10 am – 5 pm, Saturdays from 10 am – 8 pm and Sundays from 11 am – 6 pm.
For more information on the Cincinnati community or housing market, Contact The Lowry Team of Keller Williams Realty Associate Partners today.
The Lowry Team is an award winning, full service real estate firm specializing in  West Chester, Liberty Township, Mason, Monroe and the Northern Suburbs of Cincinnati. The Lowry Team's culture is that of a fun, high energy group who prides themselves on providing, personal, professional real estate service.
The Lowry Team is "Different by Design"…taking a team approach to home buying  and selling. The Lowry Team consists of members that are focused on areas of specialization including Listing Specialists, Buyer Specialists, Transaction/Listing Coordinator, Inside Sales Associate and a Marketing Director.

Don't Hire an Agent…Hire a Team. The Lowry Team.
Buyers and Sellers can reach The Lowry Team Keller Williams at 513-874-1830.
Other articles you may be interested in:
Best Places to Live in Cincinnati
Home Improvements That Are Worth The Investment
Selling A Home During The Holidays
Homes For Sale In Cincinnati Ohio
Luxury  Homes For Sale In Cincinnati Ohio
Search The Entire Cincinnati MLS For Homes For Sale
Find Out The Current Market Value of Your Cincinnati Home