The Lowry Team Keller Williams West Chester
Tips To Make Your Porch Pop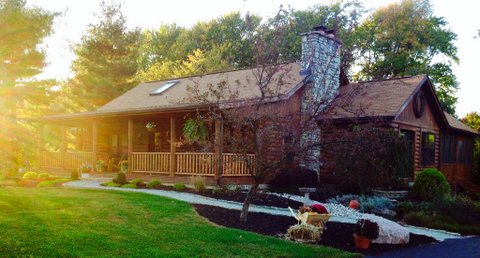 If you are preparing to sell your home, a great place to start is with your home's curb appeal. This is the potential home buyer's first impression of your home. Increase your home's curb appeal by creating a front porch that is warm and inviting.  However large or small your front porch, there are plenty of simple ways to make the porch pop.
Begin with the walkway leading up to the front porch.  The walkway should be well lit and nicely landscaped.  Use plants and bushes to make a subtle transition from the walkway to the porch.
A fresh coat of bright colored paint on the front door can really make your porch stand out.  Cluster a number of flower pots by the front door in the same bright color as the door.  Hanging baskets overflowing with ferns can draw your eyes upward, making it appear that the front porch is larger than it really is.  Window boxes full of colorful flowers brighten up the front of the house as well.
The front porch can be a nice gathering place.  Instead of a welcome mat consider putting a large indoor/outdoor rug down.  This makes the porch seem like more of a room than an entrance way.  Add weatherproof seating and tables.  Chairs should face each other to make a nice conversation area.  A small table to lay a book or drink on looks nice and is functional.  Add colorful throw pillows and blankets to the seating area to make guests feel comfortable.
If the front porch is large enough and protected from the elements, add pieces of furniture, lamps and pictures.  Decorate the front porch as you would another room in your house.  Place a dresser with drawers on the porch to hold candles, blankets and more.
Having trouble coming up with ideas or perhaps you can't picture the final product?  Take a walk or drive around the neighborhood to see what front porches look appealing to you.  Take pictures or notes that you can refer to later when you are planning out your front porch design.
If you are interested in adding to your home's curb appeal because you are planning to sell, call The Lowry Team.
The Lowry Team is an award winning, full service real estate firm specializing in West Chester, Liberty Township, Mason, Monroe and the Northern Suburbs of Cincinnati. The Lowry Team's culture is that of a fun, high energy group who prides themselves on providing, personal, professional real estate service.
The Lowry Team is "Different by Design"…taking a team approach to home buying  and selling. The Lowry Team consists of members that are focused on areas of specialization including Listing Specialists, Buyer Specialists, Transaction/Listing Coordinator, Inside Sales Associate and a Marketing Director.
Don't Hire an Agent…Hire a Team.  The Lowry Team.
Buyers and sellers can reach The Lowry Team at:  513-874-1830.
Other Articles  You May Be Interested In:
Why You Should Consider To Sell Your Home Now
The Lowry Team Offers Tips to Add  Curb Appeal To Your Home
Find Your Homes Current Market Value